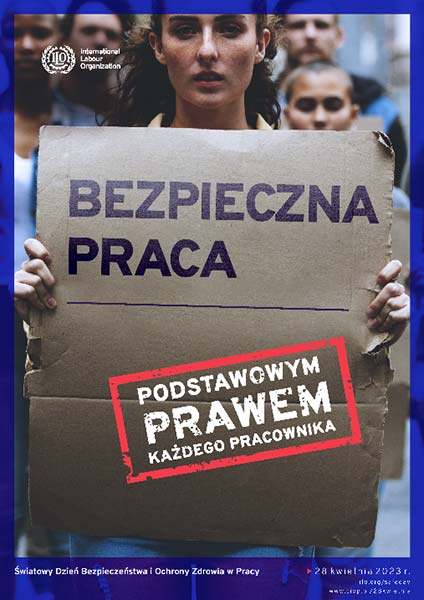 Tematem tegorocznych obchodów Światowego Dnia Bezpieczeństwa i Ochrony Zdrowia w Pracy (28 kwietnia 2023 r.) jest:
Bezpieczna praca podstawowym prawem każdego pracownika
(A safe and healthy working environment is a fundamental principle and right at work)
27 kwietnia odbędzie się uroczysta sesja Rady Ochrony Pracy przy Sejmie RP poświęcona tematyce obchodów.
28 kwietnia br. Centralny Instytut Ochrony Pracy – Państwowy Instytut Badawczy organizuje wideokonferencję pt. "Jak pracować bezpiecznie – niezbędnik młodego pracownika", dedykowaną studentom, uczniom oraz młodym pracownikom. Tematem konferencji będzie bezpieczeństwo pracy osób młodych oraz funkcjonowanie systemu ochrony pracy na poziomie firm i organizacji.
Do obchodów Dnia w Polsce włączają się różne przedsiębiorstwa i organizacje, m.in.: Ogólnopolskie Stowarzyszenie Związków Zawodowych organizuje Tydzień Bezpieczeństwa Pracy z wystawą plakatów bhp (24-28 kwietnia, Warszawa), Oddział Zakładu Ubezpieczeń Społecznych w Rzeszowie wspólnie z Wojewódzką Stacją Sanitarno-Epidemiologiczną w Rzeszowie planują zorganizowanie konferencji tematycznej (21 kwietnia, Rzeszów), a wiele firm organizuje dla swoich pracowników spotkania promujące bezpieczeństwo i zdrowie w pracy.
Więcej informacji o obchodach Dnia na stronie https://bit.ly/ciop-safeday-2023.
Materiały związane z obchodami będą się tam sukcesywnie pojawiać.