Category Archives: 2022 Netherlands
Workers' Memorial Day Herdenking slachtoffers op 28 april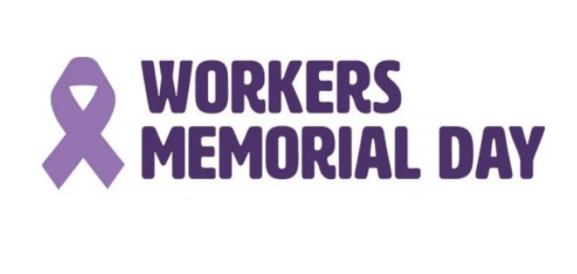 Workers' Memorial Day is de internationale dag waarop we werknemers herdenken die zijn overleden door een bedrijfsongeval of een beroepsziekte. Het valt elk jaar op 28 april.
Het is belangrijk elk jaar een moment van stilte in acht nemen voor de werknemers die ziek zijn geworden door hun werk, gewond raken, blijvend gehandicapt of zelfs om het leven komen. Daarom geeft de FNV ieder jaar aandacht aan het onderwerp.
Meer dan 4.000 doden per jaar 
Het lijkt zo vanzelfsprekend, na een werkdag weer veilig thuiskomen. Jaarlijks overlijden in Nederland 50-70 werkenden na een ongeval op hun werk. Vaders, moeders, zonen en dochters die na een werkdag niet meer thuis zijn gekomen. En jaarlijks komen er in Nederland ook meer dan 4000 mensen om het leven door een beroepsziekte, voor een groot deel door blootstelling aan gevaarlijke stoffen. Daarnaast zijn er elk jaar tienduizenden meldingen van ernstige ongevallen en beroepsziekten. Dit zijn er veel te veel.
Maak een veilige en gezonde werkplek een fundamenteel recht- is dit jaar het thema van de internationale Workers' Memorial Day. De FNV sluit zich hier bij aan. Veilig en gezond werken is een grondrecht, ook in Nederland.
Veel bedrijven doen niet voldoende 
De FNV vindt dat het beter moet en ook beter kan. Veel bedrijven doen nog steeds veel te weinig om het werk veilig, gezond en duurzaam te maken. De meerderheid van de bedrijven beschermt de werknemers, die werken met kankerverwekkende stoffen, onvoldoende. Denk ook aan arbeidsmigranten uit Oost- Europa die hier zwaar en gevaarlijk werk doen tegen een slecht loon. Uitzendkrachten en zzp-ers hebben vaak geen toegang tot de bedrijfsarts. We roepen de overheid op om de komende jaren meer ambitie te tonen en werk te maken van veilig en gezond werken.
Vlag halfstok
Op 28 april hangt bij de FNV de vlag halfstok als blijk van eerbied en respect voor de doden door een bedrijfsongeval of beroepsziekte. Hangt de vlag bij jouw op het werk ook halfstok? Vraag je werkgever of hij/zij de vlag halfstok wil hangen op 28 april.
Themamiddag
Themamiddag 'Veilig en gezond werken is een grondrecht, ook in Nederland'
Wanneer: 28 april 2022
Waar: De Remise, Ter Borchstraat 7 in Den Haag
Hoe laat: 15:00 – 17:30 (inloop 14:30)
Er zijn geen kosten aan deze middag verbonden
Aanmelden: tanja.vanmeerveld@fnv.nl
Source: FNV