National Day of Mourning for workers killed or injured on the job
On April 28, the National Day of Mourning for Workers Killed or Injured on the Job, we remember all the workers we have lost. On this day, CUPE also joins with the Canadian Labour Congress and other unions around the county to demand that all governments enforce the laws, including Westray provisions in the Criminal Code and occupational health and safety laws.
We urge CUPE members to observe a moment of silence and lower flags to half-mast on Tuesday, April 28. Show your support by prominently displaying our poster at your workplace.
Every day in Canada, workers lose their lives on the job. Their deaths are preventable and should not happen. It boggles the mind that we lose almost 1000 workers every year.
In 2017, the most recent year that full statistics are available, the officially recorded number of workplace fatalities rose to at least 951. As with every year, we say "at least" because we, in the labour movement, have always known that the number is higher.
Last year, a new report called Work-Related Death in Canada has attempted to quantify the number of workers lost who are usually uncounted. These are people who are not in the compensation system, or are self-employed, or work "off the grid" in precarious work. Or they are considered to have had a "natural" death, or were commuting to and from work, or who died from an occupational disease or cancer that was never related back to their working conditions.
If we include all the uncounted, the research suggests that there may be 10-13 times as many people dying because of work in Canada than we officially accept in our compensation system.  But while there may be no insurance payment for those left behind, their loved ones are gone just the same.
We implore governments and employers to invest in prevention, including strong health and safety committees. We call for a robust enforcement regime to enhance prevention through pro-active inspections, and to punish those employers who refuse to fulfill their duty to ensure a safe workplace. We also call on the federal government to reinstate the definition of danger that existed in the Canada Labour Code before Stephen Harper weakened it without consultation in 2014.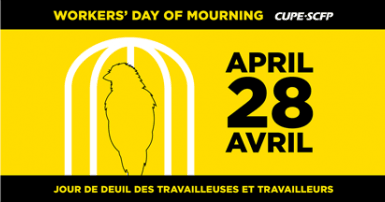 Day of Mourning flag **New Design!**
https://cupe.ca/event/day-mourning