Today on Workers' Memorial Day, we light a candle for all our comrades who have left us due to work, to remember and honor them, whether it is through a work accident or work-related illness.
Workers' Memorial Day
Så var då den 28 april här igen – en dag då vi särskilt minns och hedrar de som förlorat sina liv på grund av sitt arbete. Tyvärr har redan 16 personer mist sina liv i arbetet i år. 16 personer som lämnade sitt hem på morgonen och inte kom tillbaka till nära och kära efter arbetets slut. Men det är viktigt att komma ihåg att detta bara är en del av bilden – det finns också de som dör i förtid på grund av arbetsrelaterade sjukdomar och denna siffra är betydligt högre. Enligt Arbetsmiljöverket beräknas att cirka 3000 personer dör i förtid varje år, på grund av arbetet. Vi kan därför aldrig lägga ned kampen för att ingen ska riskera sitt liv eller sin hälsa på grund av arbetet. Varje arbetsrelaterat dödsfall och varje arbetsrelaterad sjukdom visar hur viktigt arbetsmiljöarbetet är. De kan undvikas genom aktiva och preventiva insatser för en god arbetsmiljö. Om ett effektivt arbetsmiljöarbete vore självklart oavsett var i världen, skulle vi aldrig ha kunnat läsa om sådana allvarliga olyckor som exempelvis branden vid Rana Plaza, där fler än 1 100 arbetare dog.
EU-statistik visar att 78 procent av all arbetsrelaterad cancer beror på exponering av asbest, något som är totalförbjudet i EU sedan 2005 (Sverige 1982), för att ge ett exempel. Totalt dog 3 355 människor på jobbet i EU 2020 (den senast tillgängliga statistiken) varav mer än en femtedel ägde rum inom byggindustrin, enligt Eurostat.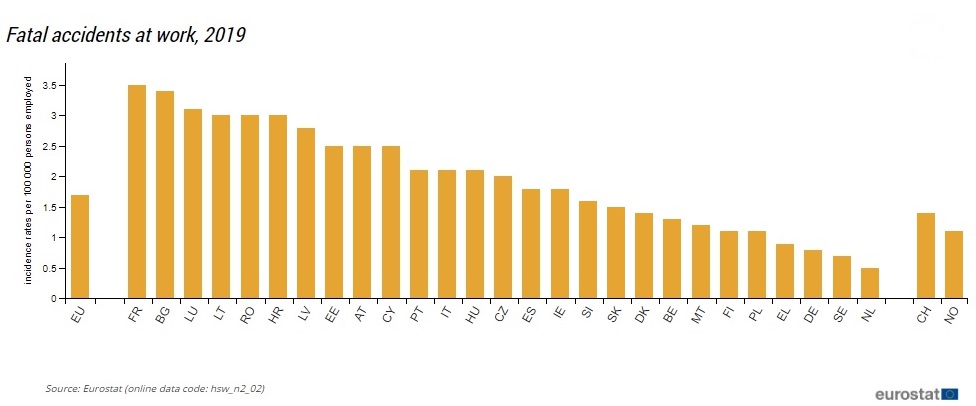 Tittar vi vidare på Eurostats statistik från 2019 så ser vi att i jämförelse med övriga EU, så ligger vi "bra" till. Men kan vi verkligen "nöja oss" med att vi har få dödsolyckor i jämförelse? Absolut inte, om ni frågar mig eller vem som helst inom fackföreningsrörelsen. Tanken att ditt arbete skulle kunna riskera ditt liv är oacceptabelt, arbete ska alltid utföras med noggranna och väl genomförda riskanalyser, så att det kan utföras utan att riskera ditt liv eller din hälsa. Oavsett var eller med vad du arbetar! Systematiskt arbetsmiljöarbete på varje arbetsplats, tillgång till skyddsutrustning och säkerhetsanordningar, välutbildade skyddsombud och chefer i arbetsmiljöfrågor, samt tillgång till expertis från t e x företagshälsovård vid behov, är a och o för att skapa en trygg och säker arbetsmiljö för alla arbetstagare. För det har väl inte gått någon förbi att sedan ILO:s arbetskonferens 2022, är en säker och hälsosam arbetsmiljö en grundläggande rättighet i arbetslivet? Det betyder att du har rätt att inte bli sjuk eller omkomma på grund av ditt arbete.
Därför, mina vänner, tänder vi idag ett ljus för alla våra kamrater som har lämnat oss på grund av arbetet, för att minnas och hedra dem. Samtidigt knyter vi näven i fickan och lovar att tillsammans ställer vi krav för en arbetsmiljö där ingen riskerar sin hälsa eller sitt liv!

Blog in English
Blog en español