Keep your distance, but don't be distant. Solidarity forever.
A beautiful message from our FILCA CISL sisters and brothers.#BWI2020IWMD


Le proposte dei sindacati ed il video del flashmob del 30 aprile in Piazza Montecitorio in occasione del Safe Day, la giornata mondiale della salute e sicurezza sul lavoro                                  
Anche quest'anno FenealUil, Filca-Cisl, Fillea-Cgil organizzano una iniziativa in occasione del SafeDay, la giornata mondiale della salute e sicurezza sui luoghi di lavoro. Il 30 aprile, dalle ore 10:00, saranno in piazza Montecitorio per ricordare tutte le vittime sul lavoro ed illustrare un pacchetto di proposte concrete per contrastare questo dramma nazionale, inviate nei giorni scorsi anche alle massime autorità dello Stato ed ai rappresentanti del Governo. Nel corso dell'iniziativa davanti alla Camera dei Deputati, con la collaborazione di alcuni artisti di strada sarà allestita una installazione dal grande impatto emotivo.
"Purtroppo il nostro settore – ricordano i sindacati – resta uno dei più colpiti dagli infortuni sul lavoro e dal fenomeno delle malattie professionali. La nostra attenzione ed il nostro impegno è continuo, ma la giornata della sicurezza resta un appuntamento importantissimo per coinvolgere tutti, occorre agire – dicono – per contrastare ed eliminare le cause, aumentando i controlli e le ispezioni, contrastando il lavoro nero ed il dumping contrattuale, investendo in prevenzione e formazione. Le proposte non mancano e saremo in piazza anche per rilanciarle e per ricordare che, dopo la Francia, nell'Unione Europea, l'Italia è il paese in cui di lavoro si muore di più, secondo i dati Eurostat confermati dall'Inail nel 2018.
L'iniziativa sulla stampa on line:
Replica Ansa su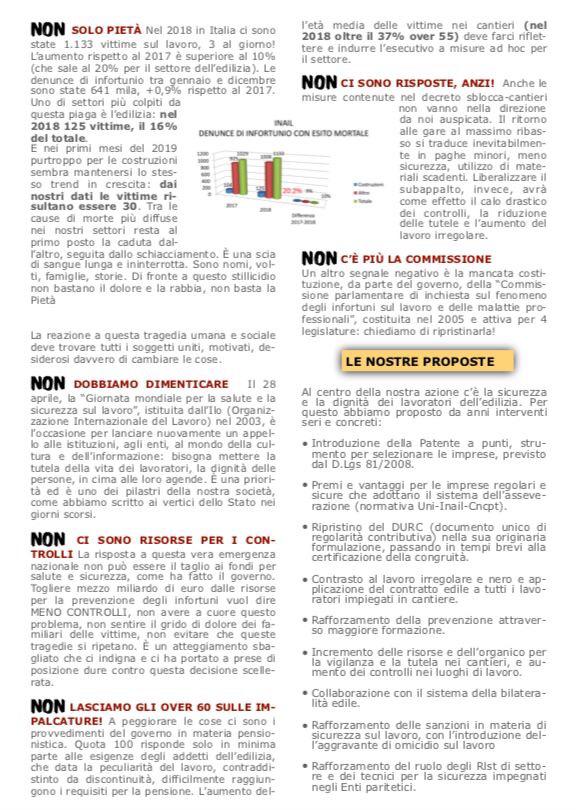 http://www.filleacgil.net/tutto/137-comunicazione/16289-safeday-2019.html